Lab: Nano & Pico Characterization Lab
Equipment: Spectradyne nCS1
New Users: Please click here to request an account in order to reserve equipment.
Existing Users: Please click here to login.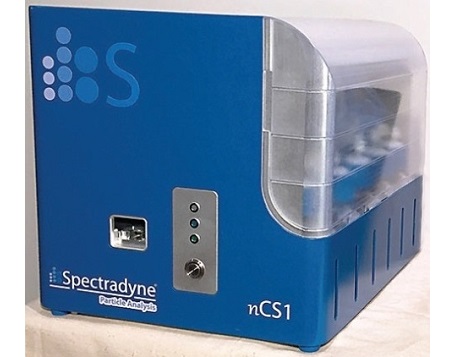 Spectradyne nCS1
Nano & Pico Characterization Lab
Quantity: 1 Usage Type: Essential
Training Required: Yes Training Level: 1 Training Service Type: aid/trainer required Approval Required: Yes Service Type: self-service
Description: The Spectraydne nCS1 measures the diameter of single particles as the pass through a nanoconstriction, providing real-time information about concentration and size for particles ranging from a diameter of 50 nanometers to 10 microns. The technology uses microfluidic resistive pulse sensing (MRPS), which is an electrical method for particle detection. MRPS delivers higher accuracy and broader utility than conventional optical techniques such as nanoparticle tracking analysis or dynamic light scattering. The nCS1 is fast and easy to use, and only requires 3 microliters of a sample for analysis.