Molecular Instrumentation Center (MIC)
New Users: Please click here to request an account in order to reserve equipment.
Existing Users: Please click here to login.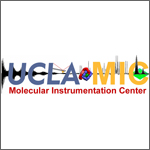 Jane Strouse, Faculty Director
The UCLA Molecular Instrumentation Center (MIC) is a campus-wide, state-of-the-art core facility that enables the use of modern instrumentation in molecular characterizations. The purpose of the MIC is to meet the needs of the UCLA scientific community by providing all aspects of technical support in the application of modern instrumentation to solve problems in cutting-edge scientific research. The UCLA Molecular Instrumentation Center, managed through the Department of Chemistry and Biochemistry, encompasses four major areas: Magnetic Resonance, Mass Spectrometry and Proteomics, X-ray Diffraction, and Materials Characterization.
Instrumentation available in the Magnetic Resonance facility includes one EPR spectrometer and six high field NMR spectrometers. Five of the NMR spectrometers are set up for liquid samples and one is appropriately equipped for samples in the solid-state. The Mass Spectrometry and Proteomics laboratory provides a wide range of MS ionization methods that include electron ionization (EI), chemical ionization (CI), matrix assisted laser desorption ionization (MALDI), direct analysis in real time (DART), electrospray ionization (ESI), and atmospheric pressure chemical ionization (APCI). MS analyzers include time of flight, quadrupole, ion trap, orbitrap, ion cyclotron resonance (FT) analyzers, and several tandem combinations of mass analyzers. Where appropriate, chromatography is used for separation prior to entrance of the sample into the ion source. Equipment is available for 1-D and 2-D gels, transferring mini and mid-size gels, gel imaging, 1-D and 2-D gel analysis, spot cutting, in-gel digestion, and protein/peptide identification for a large variety of proteomics studies. Current equipment in the X-ray diffraction laboratory includes two single crystal X-ray diffractometers and two powder X-ray diffractometers. The Materials characterization laboratory has a wide range of instruments including light scattering spectrometers, several spectrophotometers; scanning probe microscopes (AFM/STM), a SQUID magnetometer, a Scanning Electron Microscope (SEM), and an X-Ray Photoelectron Spectrometer (XPS). More information about all of the equipment available in these laboratories can be found at the MIC website: http://mic.ucla.edu/.
Professional staff are available in all four areas of the MIC to provide the technical support needed to ensure that the needs of all UCLA researchers are satisfied to the highest possible standards, which in turn will uphold UCLA's tradition of excellence in world-class scientific research.