BioPACIFIC Materials Innovation Platform
New Users: Please click here to request an account in order to reserve equipment.
Existing Users: Please click here to login.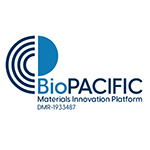 The UCLA hub of the BioPACIFIC MIP enables users to accelerate the discovery and scale-up production of bio-derived building blocks and biopolymers using a robotic and automated Living Bioreactor system for gene assembly, amplification, transformation, strain growth, and metabolite analysis. A mineable data library of biosynthetic pathways is under development and will be made available to users. Users also have access to the BioPACIFIC MIP's first of its kind Cryo-EM microcrystal electron diffraction (MicroED) system that provides accelerated 2D and 3D structure determination of small molecules, peptides/peptoids, and semi-crystalline polymers.