Molecular Screening Shared Resource (MSSR)
New Users: Please click here to request an account in order to reserve equipment.
Existing Users: Please click here to login.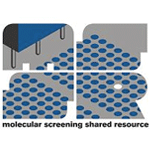 ATTENTION: The MSSR is closed to general access until further notice in response to the COVID-19 pandemic. ONLY research activity approved by the UCLA Vice Chancellor for Research is allowed. Please contact Robert Damoiseaux for further information.

Robert Damoiseaux, Director
High-throughput screening (HTS) involves assaying a large number of samples in order to identify those that have a specific biological or chemical function. In classic drug discovery and chemical genomics these samples are unique small organic molecules. However, we use as well functional genomics approaches. The available technologies include RNAi, shRNA and cDNA-overexpression which allow for modulating genes of interest to study their function.
Pharmaceutical and biotech companies have traditionally performed the lion's share of HTS. The Molecular Screening Shared Resource (MSSR) at CNSI will open these HTS capabilities to a wider academic and public research community to accelerate the pace of basic science as well as its translation into improved health. Through close collaborations between physicians, biologists, and chemists, it is our goal to identify molecules with novel functions in basic cellular and molecular biology, and to develop probes and research tools whose uses include but are not limited to direct drug discovery.
The MSSR will serve the long-term goals of basic science and health research by providing a much broader range of screens than commercial firms typically undertake.
In addition, the MSSR will incorporate new nanotechnologies into the screening process in order to advance miniaturization, improve throughput and reduce costs.
For Reservations Please Click Here here.